The Missile Man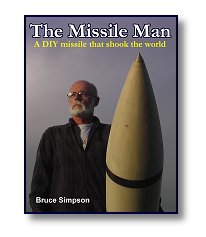 In 2003, Bruce Simpson shook the US and NZ Governments when he claimed he could build a simple but effective cruise missile for under US$5,000.
The news of Simpson's missile project was spread around the world like wildfire by an excited media.
What followed was an incredible tale of intrigue, political skulduggery, spies, agents of terror, incompetence at many levels within the public service, underhanded dealing and duplicity.
If you think we're in safe hands during this "war against terror", The Missile Man is a book that will surprise and shock you.
Just who is Bruce Simpson and just what makes a sane person want to build their own missile? Is he really "a threat to world security" as claimed by the world's media?
This book gives readers a sometimes humorous, often sobering, and ultimately shocking look at the man, the missile and the fallout it created.
Read about the man whose intense curiosity and fascination with the cutting edge of technology has almost claimed his life on many occasions. Since childhood he's survived near-electrocution, exploding rocket motors, imploding jet engines, and home-made mortar-fire.
But none of these brushes with death would prepare him for the disastrous effects this DIY missile project would have on his life.
Whether you're just looking for an entertaining read, want an insight into the workings of government and national security organizations, or are just dying to know how that missile was built and what ever happened to it, this is a book you must read.
If you'd like to be notified when the book is published, please send an email to this address: book@interestingprojects.com with the word "book" in the subject line. You will receive a short email once the book is available.
No-spam Policy
Note, your mail address will only be used to notify you of the release of this book. It will not be disclosed to any third parties or used for any other purpose.