Did the USA "lean" on the NZ Government, forcing them to shut down the DIY cruise missile project by fair means or foul?
Watch this investigative report by NZ's leading news and current affairs TV program then decide for yourself and, if you wish, send me your comments
As Seen on TV
The following documentary aired on New Zealand television in April of this year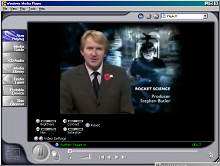 and explored the events surrounding the NZ Government's underhanded attempts to shut down the DIY cruise missile project.
Trying to fit the entire story into a 15-minute segment of the top-rating current events show was obviously a difficult task, meaning some important things were omitted and other minor factual errors were made, namely:
the pulsejet shown on my jetkart is not the X-Jet, it is the conventional Lockwood derived design I've been using on this vehicle for a couple of years. Details of the X-Jet can be found here.

the UAV shown is *not* a product of the US company with who I struck a licensing/manufacturing deal -- this was simply file footage the producers had onhand and chose to use.

my debt with the IRD (the NZ equivalent of the IRS) consisted of two components -- the actual amount of the overdue taxes (which had already been paid in full) and an amount consisting of penalties and interest levied as a result of the late payment.

It should be noted that the vast majority of the debt had already been repaid and only a relatively small amount remained. I had also made a lump-sum payment of one quarter the entire outstanding amount just weeks before the bankruptcy action was taken. At that time, the IRD knew full well that they would obtain no money by bankrupting me and indeed, their actions would make it impossible for me to continue with a payment schedule that would have seen the debt totally repaid within nine months. While repaying this money, I never missed a promised payment and in all other respects was perfectly up to date and compliant with my tax filing.

The IRD had been happily accepting my payments for two years, until the cruise missile project drew the scorn of the US government -- then everything changed overnight.

There was no fiscal case for the bankruptcy and, according to an Ernst & Young tax expert (with whom the IRD refused to meet) I should actually have been eligible under NZ tax law, for relief from the massive level of penalties I was still repaying.
That said, the video can be viewed in WMV format here as a 100Kbps streaming media file (10MB in length).
If you're on a dial-up connection I recommend that you save this file to disk then play it.
IMPORTANT NOTES:

If anyone is contemplating disseminating this video file's link to sites that could generate huge amounts of traffic, please either mirror it or organize some other way of making it available since I don't want to melt down the host's server or blow their bandwidth allowance.

I do NOT have the official approval of the broadcaster to post this video footage so mirror it at your own risk.

If you do mirror the video file, please include a link back to this page and let me know so I can list it here as a mirror.